Teresa Brown, left, is December 2020's newest Above and Beyond Award winner. She is shown here with WVPB Education Director Kelly Griffith.

Nicholas County Kindergarten Teacher Earns Above and Beyond Award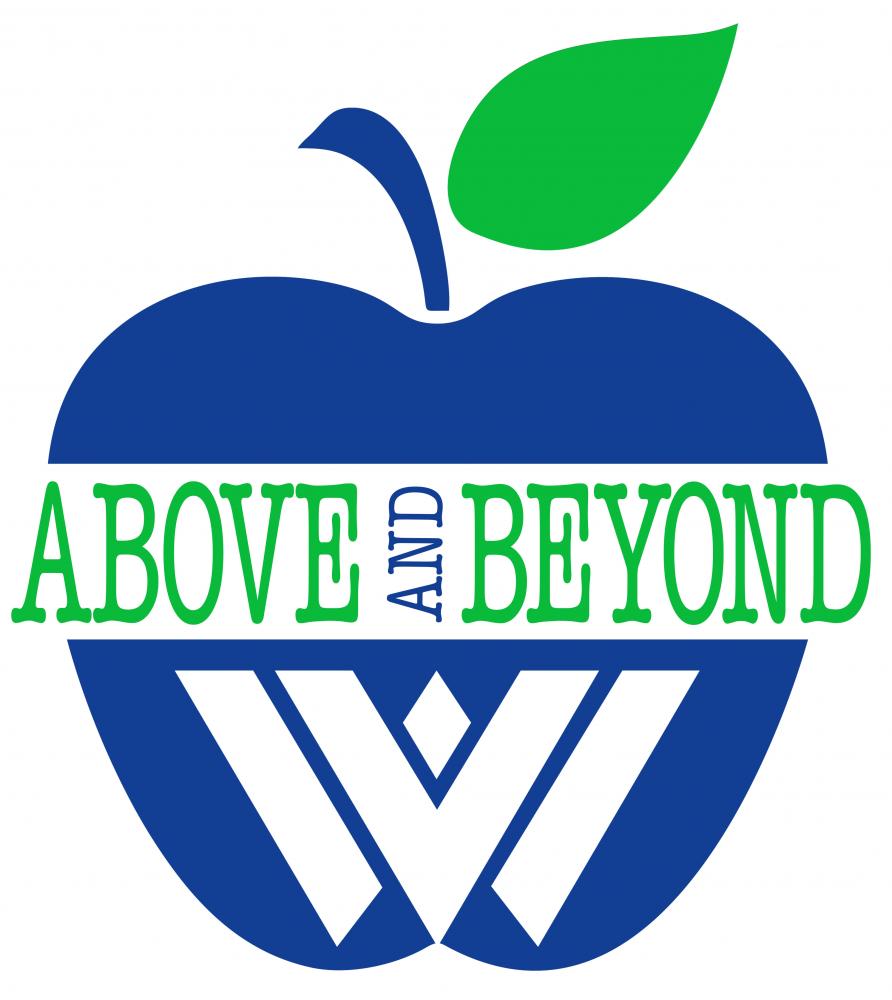 Teresa Brown, a kindergarten teacher from Nicholas County, has earned West Virginia Public Broadcasting's Above and Beyond Award, which recognizes excellence and creativity in and out of the classroom.

Brown was presented the award this week at Gauley River Elementary in Craigsville, West Virginia. She actually won the award in December, but holidays, inclement weather and COVID-19 precautions delayed the presentation. She received a monetary award, our signature Blenko Above and Beyond blue apple paperweight, a certificate of recognition, and a host of other special gifts made possible by the sponsorship of Advantage Technology.

"Teaching is a ministry of relationships," Brown said. "I can be anywhere and hear 'Ms. Brown!' and it just makes me smile from ear to ear. I have loved and learned from my students no matter the generation. From the student who is now a parent to the child in front of me now, I have always striven to establish relationships with students in order to make learning happen. It's been my honor and my reward to be 'Ms. Brown' for several generations." 

Kelly Griffith, WVPB's Education Director, said Brown is respected for her ability to keep things fun, creative and exciting for her young charges. "She uses quick wit and humor to create a productive classroom environment and she maintains high standards while still appreciating the small things students do and accomplish."

During the last two years Brown has transitioned to new technologies, software and platforms. Recently, she became an iPad Apple Certified Teacher because her district provides an iPad for each student.

"Last summer, Ms. Brown coordinated a kindergarten boost virtual program for upcoming kindergarten students giving them a jump start on kindergarten. She was able to make early connections with families and students, and both of those stakeholders seem to love her.

"She is the prototype of an exemplary teacher with outstanding teaching credentials coupled with kindness and generosity that takes her beyond the boundaries of her school and into her community," Griffith said.
During the spring COVID-19 lockdown, she contacted her students through home visits, delivering them gifts and lessons to keep their skills sharp. She assisted Nicholas County Schools with meal deliveries to bus stops with greetings of "Hello!" and "I miss you!" She worked with the local SCTV station to record six 30-minute reading lessons that were broadcast over the summer.

Brown is the site coordinator of the Gauley River Elementary after-school program sponsored by Nicholas County Schools, 21st Century After School Learning Program and Save the Children. The program runs four days a week tacking an extra three hours of teaching onto her regular work day and offering reading, math, STEM, music, art, PE and nutrition for at-risk learners.

The person who nominated Brown indicated that she puts a special touch on all she does for her students, school and community. "She is constantly purchasing items her students need from her own salary. Whether it is a birthday, a reward for effort, or just a surprise, her students are always cared for and made to feel special."

Her colleagues are given special attention, too. She mentors her new kindergarten teaching partner, "never making her feel inferior because she always accepts new ideas and shares the teaching load." She understands teaching is a collaborative profession and supports other faculty members by serving on school and district committees. "She considers her school family as her own family."

In the past, Brown has been the recipient of the West Virginia Arch Coal Award and has been named Nicholas County Teacher of the Year. She is a National Board Certified Teacher and serves on the Executive Board of the West Virginia Reading Association as its hospitality chair and parliamentarian.
A special two-part event at The Clay Center will kick off our Writers Contest and help kids learn how to start their stories. The first session begins at 10 a.m. and the second session begins at 1:30 p.m., Saturday, Jan. 30!
LEARN MORE!
Judge Denies Union Efforts To Halt In-Person Learning At Schools
A West Virginia judge has denied attempts to halt or slow a return to in-person learning for pre-K through 12th grade classrooms across the state.
Kanawha County Judge Carrie Webster denied a temporary restraining order filed by the state's two largest teacher unions. The unions wanted the court to reverse a recent ruling made by the West Virginia Board of Education that no longer allows fully remote learning in pre-K through 8th grade.

That ruling by the state board also requires high schools to return to in-person instruction unless a county is red on the state's COVID-19 risk map. Virtual school is still available to all counties and grade levels.

The West Virginia Education Association and the West Virginia chapter of the American Federation of Teachers filed the injunctions in an attempt to allow teachers and school service personnel time to receive both doses of a coronavirus vaccine before being forced to return to classrooms.

Education Reporter Liz McCormick has the story.



RELATED: Miguel Cardona On Biden's Promise To Reopen Schools
With many U.S. schools still shuttered or operating on a limited basis, and millions of children learning remotely (or trying to), the stakes are high for Miguel Cardona. He is President Biden's choice to run the U.S. Department of Education, and if confirmed, he'll be charged with making good on Biden's  promise to reopen most K-12 schools during the new administration's first 100 days. When asked if that goal was "too optimistic," Cardona pushed back: "No, I think it's strong leadership."

Collaborate Like an Artist | Dutch and Hammer




Grades Pre K-12

• Videos/Lesson Plan

•

Visual Arts




View this video, "The Artistry of Christopher Dutch and Robin Hammer".

 

Then learn how to create your own artwork in their style by following the instructions found in the lesson, "Collaborate Like an Artist".

You may want to collaborate with classmates, friends, or family and even share your creation virtually.

 

Designs can include geometric shapes, letters, numbers, pictures, buildings…… anything you want to add.
Join "Mr. Josh" for a super fun mix of active stretching and high intensity workouts for our West Virginia students!
Wellness Wednesdays
airs on WVPB-TV Wednesday mornings at 9:30 a.m. right after WVDE's
Education Station
!
'I've Tried Everything:' Pandemic Worsens Child Mental Health Crisis
A bag of Doritos, that's all Princess wanted.

Her mom calls her Princess, but her real name is Lindsey. She's 17 and lives with her mom, Sandra, a nurse, outside of Atlanta. On May 17, 2020, a Sunday, Lindsey decided she didn't want breakfast; she wanted Doritos. So she left home and walked to Family Dollar, taking her pants off on the way, while her mom followed on the phone with police.
Lindsey has autism (NPR didn't use her last name to protect her privacy). It can be hard for her to communicate and navigate social situations. She thrives on routine, and gets special help at school. Or got help, before the coronavirus pandemic closed schools and forced tens of millions of children home. Sandra says that's when their living hell started.

"It's like her brain was wired," she says. "She'd just put on her jacket, and she's out the door. And I'm chasing her."
On May 17, Sandra chased her all the way to Family Dollar. Hours later, Lindsey was in jail.
Lindsey is one of almost

3 million children

in the U.S. who have been diagnosed with a serious emotional or behavioral health condition. When the pandemic forced schools and doctors' offices closed last spring, it also cut children off from the trained teachers and therapists who understand their needs.

6-MINUTE LISTEN
Invite Arthur And Gang To Your Family Nights This Weekend!

Gather the gang for

Family Night,

weekly family viewing events featuring movie specials or themed programming.

 

Watch, play and learn with your favorite PBS KIDS characters every Friday from 7 to 9 p.m. and repeating on Saturday and Sunday evenings;

Arthur Movie Marathon,

Friday, Jan. 29 through Sunday, Jan. 31!

Nature Cat | The Groundhog Way
Grades K-4

•

Video/Activity • Science/Weather • Holidays
February 2 is known as Groundhog Day in the United States.
I
n this video from the
Nature Cat
series, children learn about groundhogs and what this holiday represents. Writing and discussion activities are included in the Support Materials section.
Then, do a little research on your own to learn about West Virginia's French Creek Freddie.
Do you have ideas for what you'd like to see in our newsletter? Maybe you just want to give us feedback on the WVPB, PBS and NPR classroom resources you like best. Email us at
education@wvpublic.org.
| | | | | | | |
| --- | --- | --- | --- | --- | --- | --- |
| |   | |   | |   | |